Abuse-Free Sport Helpline
The Abuse-Free Sport Helpline is a national toll-free helpline offering assistance to victims or witnesses of harassment, abuse or discrimination in sport.
Offered in partnership by the Sport Dispute Resolution Centre of Canada (SDRCC) and the Canadian Centre for Mental Health in Sport (CCMHS), this anonymous, confidential, independent service allows people to share and validate their concerns, obtain guidance on required next steps, and get referrals to other resources for follow up.
The Abuse-Free Sport Helpline provides professional listening and referral services by phone and text at 1-888-83-SPORT (77678) and by email at info@abuse-free-sport.ca, from 8 a.m. to 8 p.m. ET, seven days a week.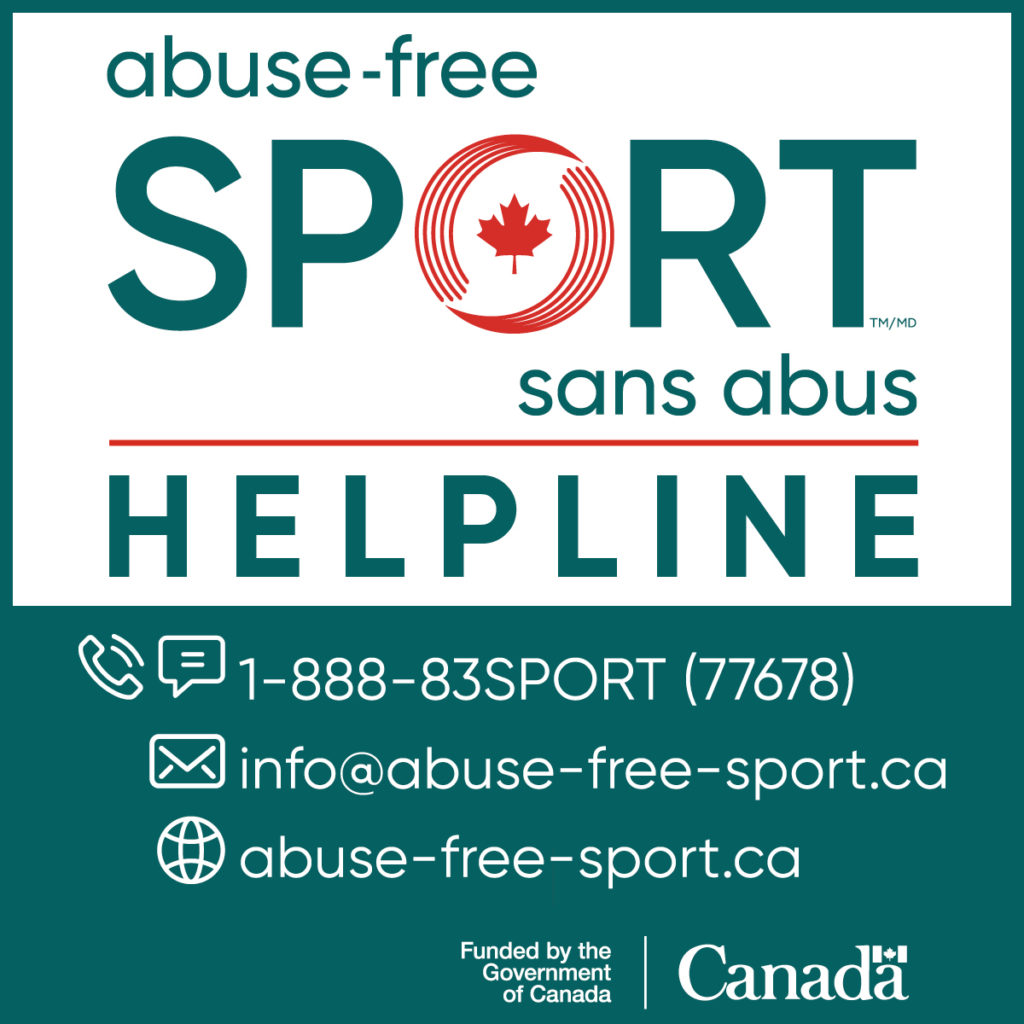 Other Support Service Providers
A bilingual and anonymous phone counselling, web counselling and referral service for children and youth. Kids Help Phone provides counselling and support all issues and topics, including emotional well-being, body issues and questions, bullying and abuse, identity, sex and relationships, school and work, and family and friends. Visit Resources Around Me to learn more about the services available in your area.
Red Cross is helping build safe communities throughout Canada. They provide a number of services in communities including health services, water safety, first aid education, and prevention of violence, bullying and abuse. You can find what is available in your community here.
The Canadian government provides a number of services to victims of crime, including emotional support, counselling, advocacy and safety planning. To find a service near you visit their directory.
CASP's goal is to reduce the suicide rate in Canada and to minimize the consequences of suicidal behaviour. Need Help? Find your local Crisis Centre.
A helpline dedicated to supporting First Nations and Inuit Peoples. Service is available in Cree, Ojibway, Inuktitut, English and French.
A helpline dedicated to the well-being of transgender people. The phone line is staffed by transgender people for transgender people.
The Centre was created by the Canadian Government to address and provide leadership on substance use in Canada. Click here to find Addictions Treatment Helplines across Canada.