Who Can Join?
Do you love to spend time on the racquetball court? Purchasing an annual membership is a great way for you to grow your game and grow the sport.
Our membership program is a perfect fit for:
Racquetball enthusiasts
Volunteers
Parents
Officials
Coaches
Non-competitive players
Competitive Players
Choose Your Membership! Choose Your Perks!
One membership gives you membership in both Racquetball Canada and Racquetball Ontario, along with access to benefits and services that meet your needs.
In Racquetball, we strive to foster a fun, positive, diverse and rewarding environment where everyone has a place to learn, grow, volunteer, work and compete. We believe that everyone can benefit from our sport's healthy lifestyle. We encourage everyone to stay involved for life. A membership provides you with the opportunity to explore your sport to your full potential.
Those joining have a choice of three membership levels, tailored to fit the needs of those engaging in the sport at the community, provincial and national level. You can upgrade your membership to the next level at any time during the season.
Our Membership Program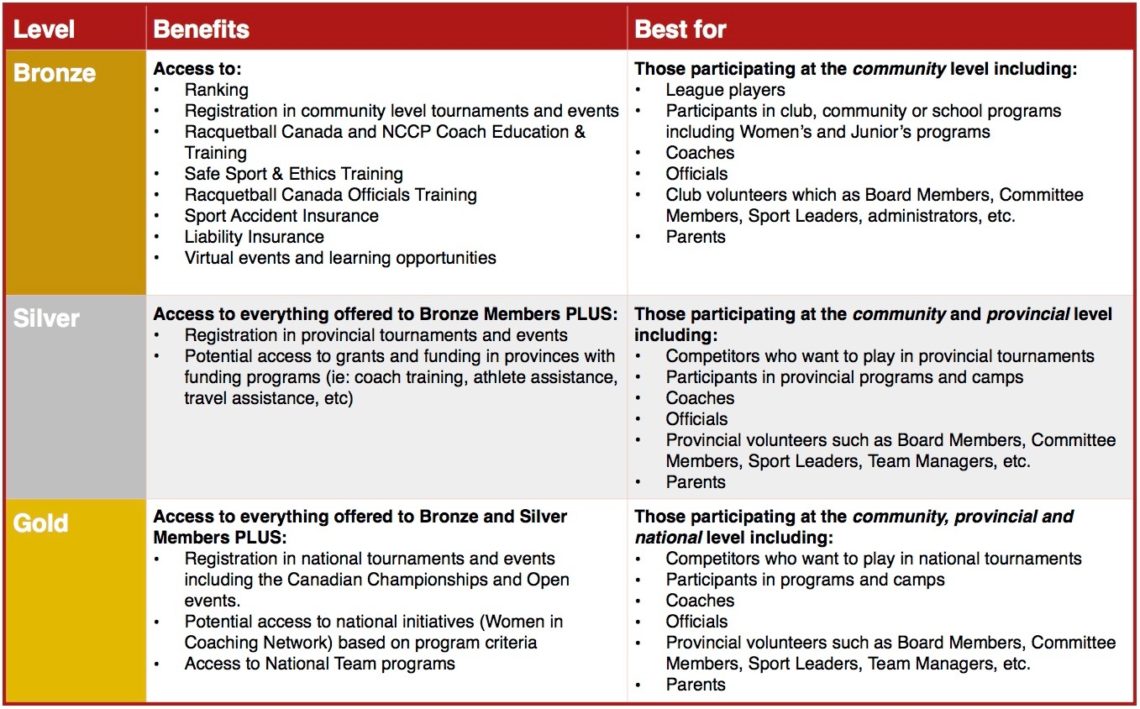 Support Your Sport Through A Membership
In addition to the many benefits you receive as a member, by purchasing a membership you are also giving back by supporting your club, province or Racquetball Canada. One of the main criteria for sport funding relates to membership numbers and our numbers are low. By collectively increasing membership numbers across Canada, we are working together to protect the future of racquetball and ensuring we keep our sport viable.
Buy Your Membership Now!
Trackie will lead you through the registration process and provide you with all the information you need to know so you have a safe and enjoyable sport experience as a member.
Make sure you take advantage of all we have to offer! Thank you for supporting racquetball by becoming a member.