Racquetball Canada is committed to excellence, whether you are coaching those who are first-time players or those who compete at the elite international level. We work in partnership with the Coaching Association of Canada (CAC) to provide coach education and development opportunities that fit the needs of our coaches.
Racquetball Canada's coaching education program links directly to our Long Term Athlete Development Plan (LTAD) and provides coaches with the right knowledge and skills to help all athletes develop to their potential . Click here for more information about Racquetball Canada's Long Term Athlete Development Plan.
For more information about coach education visit our Safe Sport pages where you can find information about the Responsible Coaching Movement, coach education opportunities and excellent coaching resources.
Racquetball Canada NCCP Coach Pathway
NCCP Community Coaching Stream
NCCP Competition Coaching Stream
The NCCP Competition stream helps participants of all ages develop competitive abilities in their sport over the long term. Former athletes and experienced coaches at regional levels often work in this stream.
NCCP Competition – Introduction Coach
NCCP Competition – Development Coach
Advanced Coaching Diploma
The Advanced Coaching Diploma program is designed for coaches of Canadian athletes competing at national, and international levels.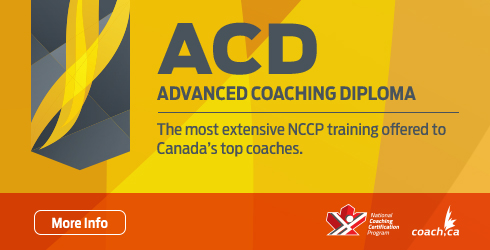 Find a Coach Training Opportunity
Racquetball Canada NCCP Coach Training
Find an up to date schedule of upcoming coach training workshops on our Tournaments and Events page, where you can click on the "Information" and "Registration" icons.
If you are looking for a workshop that is not on the schedule, contact Racquetball Canada or your provincial association.
NCCP Multi-Sport Modules
Information about NCCP Multi-sport Training Modules is available through your Provincial/Territorial Coaching Representative or by consulting the Coaching Association of Canada NCCP Workshop Calendar.